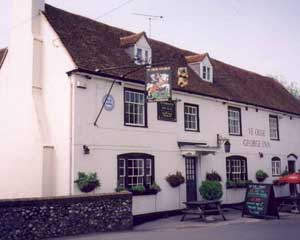 Walking
OS Maps (Explorer 1:25,000) are provided for the use of guests. There are three maps (132,133 and 119) which cover the area south to Portsmouth, west to Winchester and north east to Haslemere.
There is a great circular walk starting and ending in the village.
The South Downs Way (1.5 miles) courses along the hilltops for 60 miles from Winchester to Eastbourne. The downland is very beautiful with plenty of wild flowers and animals and there are spectacular views from the top. It is also easy to access the Downs via footpaths from a number of other very pretty villages such as Buriton, South Harting and Elsted. Butser Hill, one of the highest points of the South Downs, is only a mile and a half away and is seen from the Chalet.
The Hangars (6 miles) comprises a line of tree clad hills stretching from Alton to Petersfield and walkable via "the Hangar's Way". This footpath undulates through lovely, fragile woodland and meadows including the Noar Hill Nature Reserve where Bee orchids can be seen. There are lovely views and several scenic villages nestling beneath the hills including Selborne, home of Gilbert White, the naturalist, and Steep, where Edward Thomas the poet lived.
The Queen Elizabeth Country Park (5 miles) is a large area of beech and coniferous woodland with easy walking along broad, well maintained paths. There is an informative visitor centre and coffee shop.
Wildhams Wood and Stoughton Down (10 miles) are beautiful woods literally carpeted with bluebells and wild garlic in late Spring.
Park Hill (0.5 mile) is located behind the church in East Meon. A footpath climbing steeply up Park Hill gives a marvellous bird's eye view of the village and hills beyond. A number of footpaths continue from here.
Old Winchester Hill (3 miles) is a nature reserve of chalk downland with good views, and is the site of a former iron age settlement.